Dr. Jeffrey Erickson Dentist in Sun City, Arizona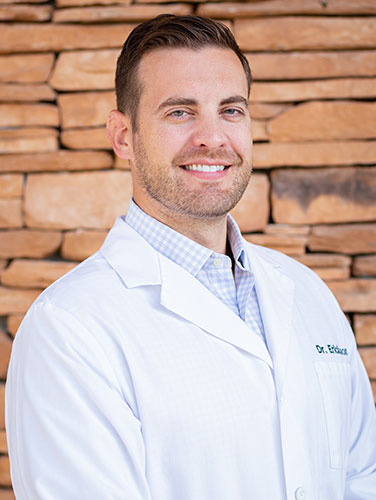 With more than a decade of experience, Sun City West dentist, Dr. Jeffrey Erickson, brings his small town work ethic to his passion for the art of dentistry, and the positive impact he can make in his patient's health. As a second generation doctor, he understands that both skill and compassion are required for exceptional patient care. He recognizes the trust that patients place in him and his dental team, and appreciates every patient relationship for this reason.
Born and raised in a small town northwest Iowa (Humboldt), Sun City West dentist Dr. Erickson was taught a strong work ethic at a young age. Growing up a son of a family physician gave him firsthand experience with the healthcare field at an early age, as he made frequent visits to the ER with his mother, who was a doctor. Early morning farm chores and responsibilities he did with his father ingrained the importance of adhering to a schedule, and an early bird mentality with Dr. Erickson. These life skills have stayed with him into his dental career and how he views patient care.
Education
DDS, from the University of Iowa Dental College.
BBA in Business Management from the University of Iowa
BBS in Biology from the University of Iowa
Professional training includes World Clinical Laser Institute, the International Dental Implant Association,
CEREC Doctors, Spear Education, 3D Dentists, and Myotronics Professional Associations
When he is not providing his patients with the most advanced care, Dr. Erickson enjoys being outdoors. After ten years of practicing dentistry in Colorado, I exchanged 75+ days of skiing for 75+ days of playing golf. I spend most of my free time with my wife, Summer, and our two young daughters, Sloane and Scotlyn.