PMMA Dental Implants from Skilled Local Dentists
Periodontal disease can lead to a wide range of issues, including tooth loss. One option for replacing lost teeth is a PMMA dental implant.
PMMA stands for "poly-methyl methacrylate" and is an acrylic material commonly used for all kinds of dental applications, including implants. This particular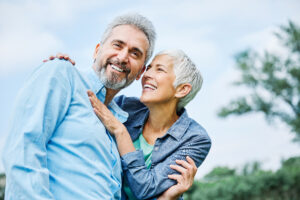 treatment offers a variety of benefits, including ease of repair and providing a more reliable prosthesis over traditional, removable dentures.
PMMA dental implants are also more cost-effective than traditional dental implants. This puts treatment in reach for many patients who would otherwise not be able to afford it.
What are PMMA Hybrid Implants?
These are dentures that are permanently fixed in the mouth, just like dental implants, and can be used to replace a full row of teeth. Unlike regular implants, though, the PMMA hybrid implant are fixed into the mouth using a set of only four dental implants.
These are fused to the jaw, then anchor the set of teeth. With just four implants, the cost is much lower than with traditional implants.
Other Benefits of PMMA Dental Implants
PMMA dental implants offer other advantages, too. These include the following:
PMMA is resilient and can stand up to the force of biting, chewing, and hot and cold temperatures.
PMMA dental implants are generally simple to repair if an issue does arise.
PMMA implants won't wear down any of the surrounding teeth and can be easily polished if the teeth become stained.
With a healthy oral hygiene plan, you can keep your PMMA dental implants for years to come. Even if you have a history of issues with periodontal disease, these hybrid implants have a low failure rate and could be the right treatment for you.
Find Out More About PMMA Dental Implants
If you'd like to find out more about PMMA dental implants and whether they are a good fit for you, call Burns Dentistry today to set up a free consultation. We can evaluate your condition and provide recommendations going forward.