Cosmetic Dentists Skillfully Treating Patients in Litchfield Park, AZ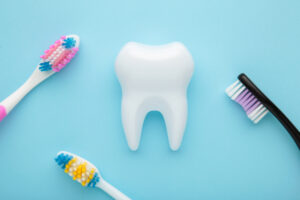 Are you searching for a cosmetic dentist in Litchfield Park, Arizona? Look no further than the team of knowledgeable professionals at Burns Dentistry. Our team collectively possesses more than 100 years of experience, and we'll draw on this extensive background to provide you with the exceptional care you deserve.
What Is Cosmetic Dentistry?
If you've never undergone a cosmetic dentistry procedure before, you might be wondering what cosmetic dentistry is and how it differs from general dentistry. While general dentistry focuses on preventive care (for example, professional cleanings) and functional repairs (for instance, fillings and root canals), cosmetic dentistry is instead aimed at improving the appearance of a patient's smile.
Here are just a few examples of the cosmetic dentistry services that we offer for patients in this community:
Invisalign® treatment (clear plastic aligners that gradually shift teeth into place)
Porcelain veneers (thin covers that help correct chipped, crooked, misshapen, stained, or worn-down teeth)
Teeth whitening (we have at-home and in-office options available, and also offer an impressive Whitening for Life program)
Meet With a Cosmetic Dentist
If you're interested in moving forward with a cosmetic dentistry procedure, contact Burns Dentistry today and request a free initial consultation at our Litchfield Park, AZ, office. Once our cosmetic dentists have learned about your treatment goals, they'll recommend a solution that's customized to your specific needs and preferences. And thanks to our industry-leading Smile Makeover Imaging technology, we'll even show you what you can expect your new smile to look like.