The Invisalign® Dentists Chosen by Litchfield Park, AZ, Residents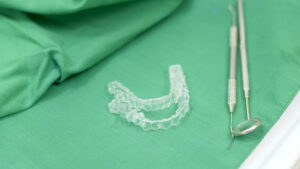 Have you heard about Invisalign dentistry? This revolutionary orthodontic treatment method uses clear plastic aligners to gradually shift teeth into place. It is an excellent option for many people with crooked, crowded, or gapped teeth, as well as for those with minor bite problems (including crossbites, open bites, overbites, and underbites).
So, where can you go for Invisalign treatment? If you are in Litchfield Park, Arizona, you can rely on the skilled Invisalign dentists at Burns Dentistry. We are one of the premier dental practices serving this community, and we will draw on our extensive training and experience to help you achieve the smile makeover of your dreams.
What Are the Benefits of Invisalign Treatment?
Patients often opt for Invisalign because the clear plastic aligners are considerably more discreet than traditional braces. They are also more comfortable, typically causing only minimal soreness. And because the aligners are removable and need to be worn for only 22 hours each day, they make it easier to:
Eat and drink
Brush and floss
Play musical instruments
Participate in sports
An Experienced Invisalign Provider Near You
If Invisalign sounds like the right option for your needs, the next thing you should do is contact Burns Dentistry and schedule an initial consultation. One of our experienced Invisalign dentists can meet with you at our Litchfield Park, AZ, office (located at 13760 W Camelback Rd.), answer your questions, and let you know whether you are a candidate for Invisalign treatment.