Dentistry With Nitrous Oxide Sedation in Litchfield Park, AZ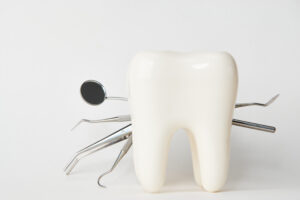 If you're among the millions of Americans who are fearful of receiving dental treatment, take a deep breath. Burns Dentistry has you covered! We understand that undergoing certain dental procedures may stir up anxiety, which is why we offer safe and effective nitrous oxide sedation to our patients in Litchfield Park, Arizona.
What Is Nitrous Oxide Sedation?
Often referred to as laughing gas, nitrous oxide is a harmless and odorless gas that has been used by dental professionals for nearly 200 years. This mild sedative works quickly to relax patients and reduce discomfort while keeping them fully awake throughout treatment.
Nitrous oxide sedation is administered through a small, comfortable mask. The patient breathes in a blend of oxygen and nitrous oxide, which temporarily slows the nervous system and creates a sensation of comfort. Many people who receive nitrous oxide sedation report feeling slightly numb, tingly, or even silly! Once dental treatment is complete, the effects of nitrous oxide wear off in a matter of minutes and the patient is free to drive home.
Consult With a Sedation Dentist
Take the next step! To learn more about the benefits of nitrous oxide sedation at Burns Dentistry, contact our Litchfield Park dental office today. Our team is also skilled in providing other reliable methods of sedation dentistry, including oral conscious sedation and IV sedation. Our team is here to answer your questions and help ensure your experience with us is a positive and enjoyable one.