Nitrous Oxide Dental Sedation Is Available at Our Sun City West, AZ, Office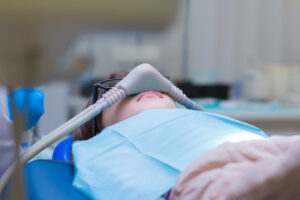 Burns Dentistry—a trusted practice with a team possessing 100+ years of combined experience—proudly offers nitrous oxide dental sedation for patients in Sun City West, Arizona. Nitrous oxide is an excellent option for many people who experience dental anxiety, as it helps them feel calm and relaxed throughout the duration of their procedure, and our team is highly experienced with administering this form of sedation.
How Is Nitrous Oxide Sedation Used in Dentistry?
As noted above, dentists commonly use nitrous oxide (also referred to as "laughing gas") to help patients relax during dental procedures. At the beginning of an appointment, a sedation dentist will place a mask over the patient's nose and start administering nitrous oxide gas. Patients often report feeling:
Notably, unlike general anesthesia, nitrous oxide dental sedation does not put the patient to sleep. Instead, the patient remains awake and able to speak throughout the procedure. Afterwards, they may experience slight disorientation, but they should feel normal again within just a few minutes.
Find Out More
Does nitrous oxide dental sedation sound like the right fit for your needs? Contact Burns Dentistry today, and our friendly team will gladly arrange a time for you to visit our Sun City West, AZ, office for a free initial consultation. During your appointment, we'll speak with you about the dental procedure you need to have completed, tell you more about what nitrous oxide sedation involves, and answer any questions you might have.