Premium Porcelain Veneers Offered at Our Office in Sun City, AZ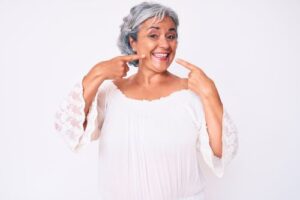 If your teeth are taking away from your smile, look to the professionals at Burns Dentistry for a solution. At our office in Sun City, Arizona, we offer porcelain veneers and other smile solutions for local patients.
What Are Dental Veneers?
Dental veneers are thin covers that are applied over the front of existing teeth to correct oral issues. You might be a candidate for a dental veneer if you have a tooth that is chipped, crooked, misshapen, stained, worn down, or spaced too far away from the adjacent tooth.
Dental veneers are often made from porcelain or composite resin. Many patients opt for porcelain veneers because this material is strong, durable, stain-resistant, and natural-looking. However, resin veneers generally cost less than porcelain veneers. One of the experienced veneer dentists at our practice can let you know which of these options is the best fit for your specific circumstances.
Don't Wait Any Longer
If you've been holding off on getting porcelain veneers because of cost concerns, you'll be glad to know that we accept plans from most major dental insurance carriers—including Aetna, Cigna, Delta, MetLife, and many others. We also offer financing options and discount plans for qualifying customers who are currently uninsured. So, take the next step today—contact Burns Dentistry and schedule a consultation with one of the skilled veneer dentists at our Sun City, AZ, office.