Advantages of Using Nitrous Oxide in Dental Procedures  
Advantages of Using Nitrous Oxide in Dental Procedures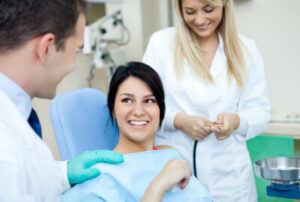 You might not have heard of nitrous oxide before, but "laughing gas" may ring a bell! Nitrous oxide—better known as laughing gas—is widely used by dentists around the world to help eliminate discomfort for patients during dental procedures, allowing them to remain fully awake yet totally relaxed throughout treatment.
What Is Nitrous Oxide?
Nitrous oxide is an odorless and colorless gas that has been utilized by medical and dental professionals since the 1800s. Also referred to as conscious sedation, nitrous oxide is a safe and effective way to mildly sedate patients and keep them comfortable during various dental procedures that may be painful, trigger a gag reflex, or take a long time to complete.
To administer nitrous oxide, a dental professional will place a small, comfortable mask over the patient's nose that emits a safe blend of laughing gas and oxygen. The patient will be asked to breathe in normally. Within minutes, the nitrous oxide will allow the patient to relax—some people describe the feeling as light, tingly, carefree, or numb. And as its name suggests, laughing gas may cause patients to feel silly or giggle a time or two!
Because nitrous oxide keeps the patient fully awake, he or she will be able to answer any questions the dentist may ask during treatment. The effects of nitrous oxide fade in just a few minutes after turning off the gas and removing the mask.
How Does Nitrous Oxide Work?
Nitrous oxide creates a calm, carefree feeling by replacing oxygen in the patient's lungs and limiting the amount of pure oxygen that travels throughout the body. Once the dental treatment is complete, pure oxygen will be administered through the mask to quickly flush out the nitrous oxide and return the patient to normal. In fact, most people can drive home after receiving laughing gas.
When Is Nitrous Oxide Used?
Nitrous oxide is an excellent solution for patients who:
Have dental anxiety or are fearful about receiving particular treatments
Are young and require a lengthy dental procedure
Have special mental or physical health needs
Have a very sensitive gag reflex
Do not respond well to local or general anesthesia
An Advanced Approach to Sedation Dentistry
Sedation dentistry is one of our specialties at Burns Dentistry—a top-rated and award-winning dental practice with state-of-the-art locations in Sun City, Sun City West, and Litchfield Park, Arizona. Our board-certified dentists excel in providing a range of safe and effective sedation methods, including:
Whether you are due for a simple teeth cleaning or require more extensive dental treatment, you can be assured that your comfort is our top priority. We'll work with you to determine the ideal sedation method for your unique needs and provide all the information you'll require to make a confident decision about your care.
Contact the Burns Dentistry location nearest you to schedule your free consultation and learn more about our sedation dentistry solutions. Our team is here to answer any questions you may have.