SNAP Dentures in Sun City, Sun City West, and Litchfield Park, Arizona
At our office in Sun City Snap Dentures are offered for A Secure And Comfortable Fit. Most people picture dentures as removable attachments that must be removed at nighttime. The problem with this is that sometimes the dental adhesive can fail, causing the denture to slip out of place and cause
embarrassing moments.
Nowadays, denture technology has evolved to consist of fixed, removable and hybrid dentures which are a combination of both fixed and removable dentures. There are dentures for all requirements and can be customized to meet your comfort level. Some people enjoy the ability to physically remove their dentures to clean them while others enjoy the feeling of having a permanent dental implant they don't have to worry about. For people that want a combination of both, snap in-dentures are perfect.
Advantages Of Snap In Dentures
Snap-in dentures are a type of hybrid dentures designed for your convenience. Snap-in dentures are exactly what they sound like – detachable dentures that are anchored by dental implants.
Affordable
Offer stability
Prevent bone deterioration
Cosmetic benefits
Boost self confidence
Easy maintenance
These are suitable for people missing either an entire arch (full row of upper or lower teeth) or just a segment of teeth and even gum tissue. Regardless of how many consecutive teeth are missing, these dentures can revive your ability to speak, chew, and especially smile with ease. If you would like to learn more about snap-in denture options in Sun City, contact our team at Burns Dentistry for help restoring your smile.
How Are Fit You For Snap In Dentures In Sun City
Snap-in dentures in Sun City consist of a two part procedure to ensure the dentures give the best structural and cosmetic result. During your first consultation for snap-in dentures, your Sun City dentist will examine your mouth to evaluate the best location to place the titanium dental implants that will support your removable snap-in dentures.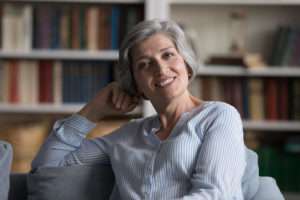 Dental x-rays will also be taken to rule out tooth decay and assess the health of your bones. Your dentures will be only as secure as your jaw bones allow, so it is imperative the dental implants are placed in healthy bone. If there happens to be extensive bone loss or erosion, a bone grafting may be done. Most people, however, will not require a bone grafting and can proceed to the first step of having the dental implants placed. There are three parts to the implant – the post, abutment and implant which in this case will be your snap-in denture. We strive to provide you with the best snap dentures Sun City West has to offer, so give us a call today!
Either four or six dental posts will be fixed in strategic positions below the gum line to create a solid base. Usually these are placed towards the front of the mouth because this is where the jaw bones are strongest. During this period, you can receive a temporary denture while adequate time is given for the implant to take root and for the bone to grow around it in a process called osseointegration. After a few months, the implant would have fused with your bone and a second procedure will be performed where your dentist will place locators that protrude from the implant, which would now be the gumline.
These locators serve as sturdy attachments for your dentures to snap on and off as per your convenience. Your snap-in dentures are made of a plastic acrylic base which is pink colored to resemble your natural gum tissue as well as flexible to give a comfortable fit. This makes snap-in dentures a suitable option for patients with gum loss as well. Although this can seem like a lengthy process, taking these careful steps in the initial stages will ensure that your snap-in dentures will last for many years, as many as 10 years with proper care.
Keeping Your Snap In Dentures Safe
Snap-on dentures require care just as any other removable dentures.
This involves brushing them with special denture toothpaste twice a day and storing them in a warm water or denture solution overnight or at times when they are not in use. If dentures are not soaked properly, they can dry out and lose their shape. Misshapen dentures would become uncomfortable to wear and poke into the gum line, causing irritation. Snap-in dentures allow you to still enjoy all of your favorite foods, though it is better to take it easy when it comes to hard, brittle foods to avoid cracking your dentures.
When performing motions that place a lot of force on the jaw, snap-in dentures may wobble and loosen slightly, so avoiding hard foods is ideal. It is possible for snap-in dentures to become chipped or become loosened, so it is important you stay on regular follow up with your Sun City dentist. Call Burns Dentistry today to schedule a consultation to see how snap-in dentures can benefit you.