Why Prophylaxis Teeth Cleanings Are Key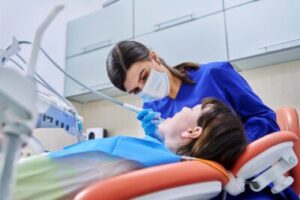 A prophylaxis teeth cleaning is simply a routine teeth cleaning designed to maintain the health and appearance of your teeth. Having one performed on a regular basis is important not only for oral health but for your entire body.
For instance, prophylaxis teeth cleaning is a key measure in stopping the progression of gingivitis and identifying any other potential periodontal diseases. These occur when bacteria get above or below the gum line, causing inflammation and irritation.
Over time, this eventually produces an inflammatory response and your body's immune system begins to attack your gums and the bones in your mouth. This can destroy the tissue, causing teeth to shift or even fall out. Bacteria can also eventually get into your bloodstream.
With an oral prophylaxis teeth cleaning, though, a dentist uses periodontal probing to look for signs of problems like these before they escalate. This is one vital step to ensure your teeth, gums, and whole body remain healthy and strong.
Some additional benefits of prophylaxis teeth cleaning include:
Removing plaque and tartar using scaling tools can further halt periodontal disease.
Improving breath as plaque, calculus, and bacteria are removed.
Performing a cleaning and polishing that can reduce staining on teeth and give you a brighter smile.
Evaluating overall oral health, screening for signs of oral cancer, and looking for common symptoms of other medical problems.
Conducting routine X-rays to identify signs of periodontal disease, as well as cavities.
In addition, your routine cleaning is an ideal time to ask questions. If you're having a dental issue, like sensitivities, pain, or bleeding, talk to your dentist. They are an important source of knowledge and recommendations to help you solve any dental concerns.
Ready for a Routine Prophylaxis Teeth Cleaning?
Call Burns Dentistry now to schedule your appointment. During your prophylaxis teeth cleaning, we'll take all the necessary steps to keep your smile healthy and bright.