Online Dental Implant Seminar
Understanding dental implants, bone loss and implant treatment can be complicated. By watching our 15 minute video below you can get a good overview of dental implant treatment and technology.
Schedule a FREE Consultation & CT Scan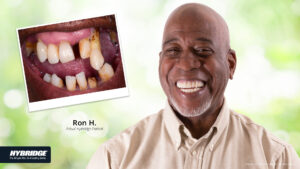 If you're interested in receiving Hybridge implants, don't delay—contact Burns Dentistry today. We'll gladly schedule a FREE consultation and CT scan at one of our local offices so that we can speak with you about your treatment goals and determine whether you're a candidate for Hybridge implants. And if you choose to move forward with this type of restoration, you can rest easy knowing that we've completed the rigorous training needed to become a Hybridge Certified Dentist.
Hybridge Implants Before & After Gallery