Uncomfortable at the Dentist? Consider Nitrous Oxide Dental Sedation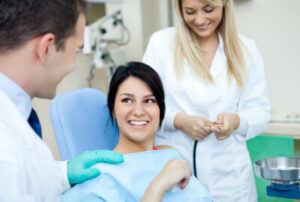 Ever heard of laughing gas? The technical term for it is "nitrous oxide." It's used as a way to increase a patient's comfort during dental procedures. In fact, nitrous oxide dental sedation is a safe, effective option that will ensure you feel calm during a wide range of procedures.
Generally, when a dentist gives you nitrous oxide dental sedation, you'll feel lightheaded and a tingling sensation. Your whole body might feel numb, yet you'll still be awake and able to talk to the dentist during your procedure. Afterward, you won't be groggy as with other types of sedation.
Other Benefits of Nitrous Oxide Dental Sedation
This type of dental sedation is administered using a mask, not an IV or any kind of shot. You'll simply breathe in a mix of oxygen and nitrous oxide through the mask and will soon feel the effects of the sedative.
Nitrous oxide also makes it easy for the dentist to increase or decrease your level of sedation. This type of sedation works quickly and is even safe for anyone who is disabled. For those who have severe anxiety about going to the dentist, it will have a calming, numbing effect without any needles required.
Finally, nitrous oxide sedation has been used in dentistry for a long time. In fact, medical practitioners have been using it since 1793. It's been studied extensively, as a result, and has proven to be safe for the brain, heart, kidney, lungs, and liver, as well as an extremely effective way to sedate a patient. The biggest risk is feeling slightly disoriented as the sedation wears off.
Looking for a Sedation Dentist?
At Burn Dentistry, we can help you overcome your anxiety surrounding dental procedures with nitrous oxide dental sedation. Contact us today for a free consultation to find out more.