Restore Your Smile with a Dental Implant Bridge
If you have several teeth missing, you might be wondering what treatment is best for you. One option is a dental implant bridge. This can restore your smile while offering a
comfortable and long-lasting solution.
Advantages of a Dental Implant Bridge
A dental implant bridge is a permanent solution that does not detach. Unlike with a removable bridge, you won't have to think twice about your teeth. At the same time, you'll achieve an outcome that looks and functions just like your natural teeth.
Using your jawbone as a base If you have several teeth missing, a dental implant bridge can provide the solution, restoring comfort and confidence. Call Burns Dentistry today helps to preserve the surrounding teeth and the jawbone. In fact, implants are the only method of tooth restoration that can prevent more bone loss and protect your jaw from atrophy.
An implant supported bridge also enables our dentists to maintain the shape of your smile—and the shape of your face. This prevents future issues and complications, such as existing teeth shifting and moving toward the gap.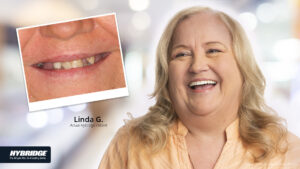 In addition, if you have trouble chewing or smiling, a dental bridge implant can restore function. You'll have a strong structure in place that can withstand the impact of biting and chewing. You'll, therefore, be more comfortable when eating. You also don't have to worry about the bridge tooth implant moving when you're speaking or smiling.
At Burns Dentistry, we will match your bridge to the size and color of your existing teeth, giving your new smile a natural look. This will restore your comfort and confidence, all so you feel like yourself again.
Learn More About Dental Implant Bridges
If you'd like to find out more about dental implant bridges and whether they're the right solution for your needs, call Burns Dentistry today for a free consultation. We'll evaluate your individual condition and discuss treatment options.