How to Choose the Right Toothbrush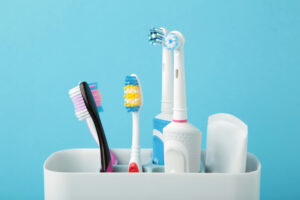 Life is full of important decisions. One such important decision (believe it or not) is the toothbrush you choose. Not only does proper brushing play a critical role in your oral health, it also can help prevent gum disease—a common problem with surprising links to serious general health issues like diabetes and heart disease.
So here's the question: How do you choose the right toothbrush for your needs? Let's take a closer look at what you should consider on your next shopping trip.
Toothbrush Type—Manual or Electric?
At the end of the day, it doesn't really matter if you use a manual or electric toothbrush so long as you:
Brush your teeth twice daily for at least two minutes each time
Softly use a circular or back-and-forth stroke
Gently brush along the gum line
Avoid vigorously scrubbing teeth or gums
It's also important to use a fluoride toothpaste when brushing to help prevent cavities.
Deciding between a manual or electric toothbrush often comes down to personal preference. Some people find the vibrating sensation of an electric toothbrush to be unpleasant, while others think it's more difficult to thoroughly clean all tooth surfaces with a manual brush. Still, electric toothbrushes may be a better option for people with limited dexterity from problems like hand or wrist arthritis.
Another factor to keep in mind when considering toothbrush type is how much money you're willing to spend. Electric toothbrushes have a significantly higher upfront cost than manual toothbrushes and require regular toothbrush head replacement, but they may help you keep your teeth cleaner and avoid costly dental bills down the road.
Toothbrush Size
Of course, finding the right size of toothbrush for your mouth is also important. Smaller toothbrush heads offer a greater level of control and can more easily reach tight spaces toward the back of the mouth. Most adults should opt for a toothbrush head that's about a half an inch wide and one inch tall.
Bristle Hardness
No matter if you prefer a manual or electric toothbrush, it's a good idea to choose soft bristles over stiff or hard bristles (unless your dentist instructs you otherwise). Soft bristles are more effective at removing plaque in hard-to-reach places, and bristles that are too hard could damage tooth enamel and gums.
Professional Teeth Cleaning & Dental Exams at Burns Dentistry
If you're still unsure about what type of toothbrush is best for you, you're welcome to visit Burns Dentistry to find answers to all your oral health questions. Our award-winning dental practice is led by skilled dentists who offer a full scope of general dentistry services, including dental exams, teeth cleanings, dental X-rays, oral cancer screenings, and so much more.
Schedule your appointment at Burns Dentistry today! Our state-of-the-art dental clinics in Sun City, Sun City West, and Litchfield Park, Arizona, accept many insurance plans and offer flexible payment options to self-pay patients. We look forward to helping you achieve your best smile!