The Most Common Types of Dental Fillings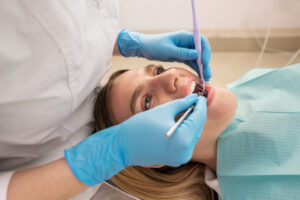 As its name suggests, a dental filling is used to "fill" in an area of a tooth that was removed by a dentist due to damage caused by tooth decay (cavities). Dental fillings may also be used to repair cracks, chips, and worn areas on teeth from common habits like nail biting and teeth grinding. If a dentist has recommended dental fillings to address imperfections in your smile, there are multiple types of fillings that may be used depending on your oral health needs and care preferences.
What Are Dental Fillings Made Of?
Dental fillings are typically categorized by their material. The most common types of dental fillings include:
Composite Fillings
Composite dental fillings are crafted from a blend of plastic and resin materials. Each filling is placed into the tooth as a soft material, then hardened (or "cured") with a special blue light. Its ability to perfectly match to the shade of a patient's existing teeth makes composite a popular choice, although it's slightly more expensive than other filling materials and usually needs to be replaced every five to 10 years.
Ceramic Fillings
Made from a porcelain blend, ceramic dental fillings are especially durable, last for up to 15 years, and can be matched very closely to the color of existing teeth. Ceramic fillings are also more resistant to staining than other types of filling materials, but they're typically only recommended for use on larger tooth surfaces.
Silver Amalgam Fillings
Silver amalgam dental fillings feature a mix of silver, zinc, tin, copper, and mercury. They're an affordable and sturdy option, but are no longer widely recommended due to the potential negative health effects of mercury for pregnant women, young children, and people with certain pre-existing conditions.
Gold Fillings
Gold dental fillings are remarkably durable and can last for more than 20 years, but they're very expensive and can be difficult to install. Many dentists no longer offer gold fillings.
Glass Ionomer Fillings
Glass ionomer dental fillings are engineered from a blend of glass and acrylic. They may be recommended for children with growing and shifting teeth, as they typically only last a few years and release fluoride that can help prevent cavities. Glass ionomer fillings are also often used to fill spaces underneath the gum line.
Dental Fillings at Burns Dentistry
For dental fillings and comprehensive dental care, residents of Sun City, Sun City West, and Litchfield Park, Arizona, can confidently turn to Burns Dentistry. Our award-winning practice offers a full scope of preventive, restorative, and cosmetic dentistry services, from tooth fillings and dental implants to crowns and teeth whitening.
If you'd like to discuss dental fillings with a top-rated dentist—or, if it has been more than one year since your last teeth cleaning and dental exam—contact Burns Dentistry today to schedule an appointment at one of our convenient locations. When you call, don't forget to ask about our new patient specials!