Ways to Tell That You May Need a Root Canal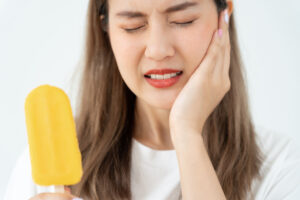 If you suspect that you may need root canal treatment, you're certainly not alone. According to the American Academy of Endodontists, more than 41,000 root canal procedures are performed in the U.S. every day! This dental treatment involves cleaning out infected or inflamed tooth pulp while preserving the tooth and keeping the patient's smile intact.
What Are the Signs of Infected or Inflamed Tooth Pulp?
The pulp lives in a hollow space inside the tooth which houses important connective tissues, nerves, and blood vessels that run into the root of the jawbone. Damage to tooth pulp can occur as a result of serious tooth decay (cavities), teeth grinding, or cracks that allow bacteria to enter the tooth and cause significant inflammation or infection—a problem known as pulpitis.
Some of the most common signs and symptoms of pulpitis include:
Pain that may be persistent or occur only when eating
Facial or gum swelling around the affected tooth
Increased sensitivity to hot or cold foods
Discomfort when eating very sweet foods
A tooth that feels loose or has a grayish-black hue
A pimple or boil on the surrounding gums
More severe pulpitis (irreversible pulpitis) can also cause symptoms like:
Fever
A bad taste in the mouth
Bad breath
Swollen lymph nodes
It's important to promptly seek dental care if you develop symptoms of pulpitis, especially irreversible pulpitis. If left untreated, the affected tooth may need to be pulled and the infection could spread to other areas of the body.
What Does Root Canal Therapy Involve?
A root canal procedure generally involves:
Numbing the affected area of the mouth to prevent discomfort
Placing a small, rubber dental dam to isolate the infected tooth
Making a small hole in the tooth to access the pulp
Removing the diseased pulp and cleaning the inside of the tooth
Filling the hollow space of the tooth with a special material and sealing the access hole
The term "root canal" is known to strike fear into the hearts of dental patients worldwide, but this once-dreaded treatment has come a long way in the past few years thanks to advancements in dental technology. In fact, recent studies note that living with pulpitis symptoms is more uncomfortable than receiving and recovering from root canal therapy—especially since the mouth is thoroughly numbed prior to treatment.
Root Canal Therapy at Burns Dentistry
Burns Dentistry is an award-winning dental practice that utilizes state-of-the-art technology when performing root canal therapy and other important dental treatments. Our fully equipped locations in Sun City, Sun City West, and Litchfield Park, Arizona, offer personalized and attentive care to every patient to ensure a positive dental care experience. In fact, we excel in multiple types of sedation dentistry services to help patients feel relaxed and comfortable during treatment.
We encourage you to contact Burns Dentistry today if you're experiencing uncomfortable symptoms or if it has been longer than one year since your last dental exam. Our team accepts many dental insurances and offers flexible payment options to self-pay patients.