Why Do My Gums Bleed When I Floss?
Why Do My Gums Bleed When I Floss?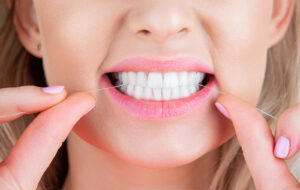 Unless your oral hygiene habits have been flawless since birth, you've most likely experienced bleeding gums after flossing before. It's a very common problem that usually isn't an indicator of a serious issue, but still—why do gums tend to bleed after a seemingly gentle flossing routine?
The most common reason for bleeding gums after flossing is periodontal (gum) disease, which occurs when the gums become inflamed or infected. According to the Centers for Disease Control and Prevention (CDC), more than 47% of adults over age 30 and 70% over age 65 have some form of gum disease.
Gingivitis—the most mild form of gum disease—makes up the majority of cases. Thankfully, gingivitis is reversible with a proper brushing and flossing routine. Signs of gingivitis include:
Gums that bleed easily when flossing
Gums that appear swollen, puffy, or dark red
A receding gumline
Increased gum tenderness
Bad breath
Untreated gingivitis can progress to periodontitis—the most severe form of gum disease that may result in jawbone deterioration, tooth loss, and even an increased risk of serious health problems like diabetes and stroke.
In short, if your gums bleed after flossing, it's likely a sign that you need to floss more often and place a bigger emphasis on your periodontal health. If your gums continue to bleed despite improving your flossing habits, be sure to make an appointment with your dentist.
Other Reasons for Bleeding Gums After Flossing
Gum disease isn't the only possible factor behind bleeding gums. Other reasons why your gums may bleed when flossing include:
Hormonal Changes
Changes in the levels of certain hormones like progesterone can increase blood flow to the gums and make them more likely to bleed. Common causes of hormonal changes include:
Puberty
Pregnancy
Taking birth control pills
Menopause
Underlying Medical Conditions
There are a handful of medical conditions associated with an increased risk of gum bleeding, including diabetes, HIV infection, vitamin C and K deficiencies, hemophilia, and certain types of cancer. Pregnancy gingivitis, which can affect expectant mothers, may also result in bleeding gums.
Improper Brushing and Flossing
There's a right way and a wrong way to brush and floss, so keep these gum-friendly oral hygiene tips in mind to help avoid bleeding gums:
Use a soft-bristled toothbrush—or better yet, an electric toothbrush.
Promptly replace a toothbrush that has worn-down bristles.
Use a gentle, circular motion when brushing along the gumline.
Floss between teeth once every day using a soft, up-and-down motion.
Avoid flossing hurriedly or rigorously.
Use a dentist-recommended mouthwash.
Burns Dentistry Can Help
Bleeding gums? Burns Dentistry is here to help! Our state-of-the-art dental offices in Sun City, Sun City West, and Litchfield Park, Arizona, offer a complete spectrum of smile care from board-certified dentists. In collaboration with a talented team of dental assistants and hygienists, our dentists excel in treating all stages of gum disease and can provide expert oral hygiene tips to help avoid bleeding gums.
Contact the Burns Dentistry location nearest you to schedule an appointment and learn about our new patient specials. We look forward to helping you achieve your healthiest smile!