Implant Supported Dentures in Sun City, Sun City West, and Litchfield Park, Arizona
Restore Aesthetics, Function, And Health With Full Arch Dental Implant Supported Options. If you have a full-arch of missing teeth, either upper or lower, and are unhappy with removable dentures, you may be a good candidate for a full-arch replacement with implant supported dentures, also known as All-on-4 dental implants.
With both of these techniques, a set of dental implants is used to support a custom-made denture or bridge, which will remain fixed in place and not slip or click or restrain your movements in any way. Both modern tooth replacement options will restore a full arch of missing teeth and help to replace lost bone structure and fill out the cheeks, directly and positively influencing the outward appearance of the face. At our office in Sun City All On Four Dental Implants can restore your smile and build a new level of confidence.
Benefits Of Sun City's Full Arch Dental Implants
At our office in Sun City West Full-arch dental implants offer a number of benefits to patients, including:
Permanent results with proper care
Prevention of bone degeneration
Regain chewing power
Stability while in the mouth
Natural appearance
Restoration of self-confidence
Restoration of a healthy smile
Different Full Arch Dental Implant Procedures Offer Similar Results
When you want a full-arch tooth replacement solution in Sun City, there are many options available to you, including All-on-4, TeethXpress, Teeth-in-a-Day, and Zirconia. These systems provide you with the end result of a beautiful, functional new smile but take different approaches to get there.
Usually when a dental implant is placed, one screw-like implant is used per tooth and covered by a tooth-shaped crown that looks similar to your other teeth. For a row of multiple missing teeth, dental bridges or partial dentures can be fixed and requires the adjacent teeth to be strong to serve as an anchor for the implant. This is unfortunately not possible when there is a full arch of missing teeth.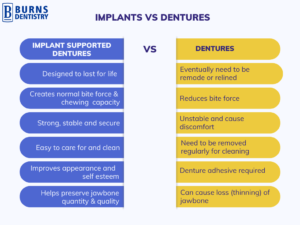 One revolutionary, state-of-the-art option to restore your smile is All-on-4 Dental Implants. First developed in 1998, this is a unique technology that allows the revolutionary ability to support a full arch on just four dental implants. These implants made of titanium screws serve as a base to place a row of fixed dentures, either porcelain or acrylic, to restore your beautiful smile. There are usually two in the middle towards the front of your mouth and one on each side in the back of your mouth, to evenly distribute the weight of the denture and allow for the process of osseointegration. Through this process, the implant becomes fused with the bone to provide long term durability and increase the lifespan of your full arch dental implant. TeethXpress is another brand of full arch dental implant used in Sun City that uses special Laser-Lok technology. TeethXpress® uses between four and six dental implants to support your new bridge.
They are strategically placed so even those who have been told they are not candidates for traditional implants may qualify for this procedure. The advantage of TeethXpress' immediate load conversion technique is the implants are fixed into your jawbone to prevent bone loss and retain the shape of your smile and jawline. This procedure is performed under local anaesthetic and completed in one sitting. Teeth-in-Day uses the same brand as All-on-4, but is not limited to full-arch replacement only. This system can replace individual missing teeth or even create dental bridges using implants. This technique also has the advantage of being completed in a single afternoon without any restriction on your daily activities. You'll be able to smile with ease, speak normally and even eat soft foods on the same day of procedure!
New Teeth The Day Of Surgery With Full Arch Dental Implants
Our prosthetic-driven full-arch dental implant process in Sun City begins in our Digital Smile Design Studio.
Here, we start with the outward appearance and work inward, focusing on where new teeth must be positioned to balance harmoniously with the facial structure. This starting point is deliberate and effective, helping us and you visualize the end result digitally and with a physical mock-up you can try on. Once we have created the most ideal smile for your face, we place the necessary number of dental implants into your jaw bone with a custom guide to ensure accuracy in the final result. Whatever dental implant process you choose will still give you the functional and aesthetically pleasing appearance you deserve.
Advanced Technology Ensures Precise Full Arch Dental Implant Placement
Whether you choose All-in-4, TeethXpress or Teeth in a Day technology, we use computer software to take 3D images of you mouth during the consultation and again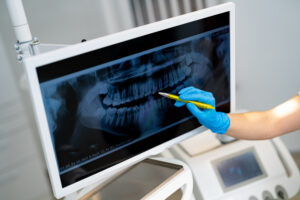 before placing your implants.
This helps us digitally plan out how many implants are needed and exactly where they will go for optimal results and longevity of your full arch implant. We can also use this to create your final, custom bridge. Using this technology, we can then precisely place your implants and affix the bridge immediately, so you can leave our office with a brand new smile. Not only can you begin to enjoy the aesthetic benefits of a stable smile, but the health advantages too. We strive to provide you with the best All On Four dental implants Sun City has to offer, so give us a call today!