Advanced Root Canal Therapy for Residents of Peoria, AZ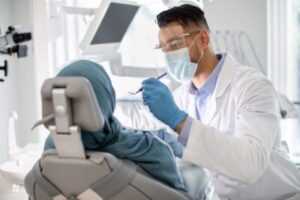 Severe tooth decay or damage to a tooth can lead to the need for root canal therapy. If you live in the Peoria, Arizona, area and are looking for a reputable root canal dentist, your search can end with Burns Dentistry. Our fully equipped, state-of-the-art dental offices in nearby Sun City, Sun City West, and Litchfield Park offer a full scope of care to patients, including advanced endodontic services like root canal treatment.
What Is Root Canal Therapy?
Root canal therapy is performed to remove infected or inflamed pulp from the inside of a tooth and avoid the need for tooth extraction. This treatment was once associated with considerable pain, but advancements in dental care—combined with Burns Dentistry's sedation dentistry services—have made root canal therapy much less scary. In fact, most patients don't feel a thing during the procedure.
Here's a brief overview of the root canal treatment process:
The affected tooth and the surrounding gums are numbed to prevent discomfort.
A small hole is drilled into the tooth to reach the tooth pulp.
The tooth pulp is removed using very small instruments.
The inside of the tooth (the canal) is cleansed and disinfected.
A temporary sealant is placed over the access hole, which is replaced by a permanent dental crown in about two weeks after the procedure.
Learn More Information
Contact a Burns Dentistry location near Peoria today to schedule an appointment with one of our skilled dentists and learn more about our approach to root canal therapy. We accept most dental insurance plans and offer a range of flexible payment options. When you call, don't forget to ask about our new patient specials.