The Local Dentist Peoria, AZ, Residents Turn to for Expert Care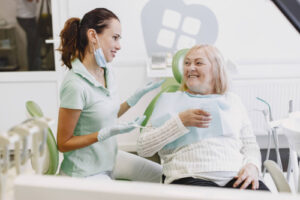 A healthy and attractive smile is an integral part of your daily life. That's why it's critical to find a local dentist that is experienced and qualified to keep your teeth looking and feeling their best. Peoria, Arizona, residents need not look far for such a dentist—simply turn to the trusted experts at Burns Dentistry. As your local dentist, we'll use our wide-ranging expertise to ensure your smile is the brightest it can be.
Dental Care From a Professional Team
Comfort and confidence. These are two things you ought to feel during your visit to your local dentist. At Burns Dentistry, we have more than 80 years of collective experience and stay up to date on the latest research and technologies. Every patient who steps foot into our dentist office is treated with the utmost respect and compassion, no matter their dental care needs.
If you need a little extra convincing as to why we are the perfect local dentist for you, just ask our employees. Burns Dentistry has repeatedly been named one of the top places to work in the area!
Comprehensive Dental Services
As you age, so too do your dental needs. As a local dentist that offers a wide array of services, Burns Dentistry provides top-notch treatments and smile solutions. We offer professional services:
Dental Implant Applications
Living with a missing tooth can do more than adversely affect your confidence. Oftentimes, teeth on either side of the gap can begin to shift to fill the space the missing tooth left behind, resulting in pain and difficulty with biting and chewing. Fortunately, you can count on our local dentists to transform your smile with dental implants. Whether you're missing a single tooth or multiple teeth, we offer a variety of dental implant option to restore your smile, including dental implant bridges and Hybridge implants.
Cosmetic Dentistry
Your smile goes with you everywhere. So, having a smile that you don't absolutely love can impact your confidence. If you are looking for a local dentist who can restore your smile, Burns Dentistry offers several cosmetic dentistry services, including Invisalign to straighten your teeth, teeth whitening to brighten your smile, and porcelain veneers to correct any imperfections. We can even perform a total smile makeover to improve the overall appearance of your teeth.
General Dentistry
Burns Dentistry is also happy to provide general dental services to area residents. Our team is adept at teeth cleanings, cavity fillings, tooth extractions, crowns, inlays and onlays, periodontal disease treatment, root canal therapy, oral cancer screening, dentures, and other routine dental care.
Specialty Services
Visiting the dentist office is a real fear for many—one that we don't ignore. To  set your mind at ease, we offer various options for sedation dentistry, including IV sedation dentistry. And if you are experiencing painful abscesses, tooth loss, or gum disease, we are the local dentist to turn to for effective periodontic care.
Visit Our Dentist Office Near Peoria, AZ
Confidently end your search for a trusted local dentist near Peoria, AZ, by turning to Burns Dentistry. We accept most major insurance plans and offer attractive financing options for self-pay patients who qualify. Contact us today to schedule a visit to one of our offices in nearby Sun City, Sun City West, or Litchfield Park.