Performing Tooth Extractions at Our Office in Litchfield Park, AZ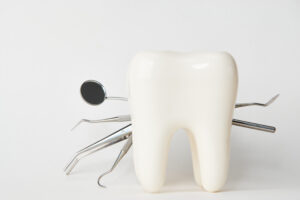 When you need to have a tooth removed, you can entrust your care to the experienced team at Burns Dentistry, a local practice with an office in Litchfield Park, Arizona. We regularly perform tooth extractions for patients whose teeth have been damaged beyond repair. And if you opt to restore your smile with a crown, a bridge, an implant, dentures, or another solution, we can help you with that, as well.
What to Expect During Your Tooth Extraction
Have you never had a tooth pulled before? If so, you might be unsure what the tooth extraction process involves. Here's what typically happens:
We administer a local anesthetic and any necessary sedation (we offer nitrous oxide, oral conscious sedation, and intravenous sedation).
One of our skilled tooth extraction dentists loosens the tooth and pulls it out of its socket (depending on the condition of the tooth, we may need to make small incisions in the gums to gain access to it).
We'll clean and disinfect the empty socket, then place any necessary stitches.
Prior to your tooth extraction, our team will answer all of your questions and explain exactly what you can expect to occur during your procedure.
For More Information
If you'd like to know more about our practice and the tooth extractions we perform at our Litchfield Park, AZ, office, contact Burns Dentistry today. We'll gladly schedule a time for you to meet with one of the tooth extraction dentists on our team.