Modern Root Canal Therapy in Sun City West, AZ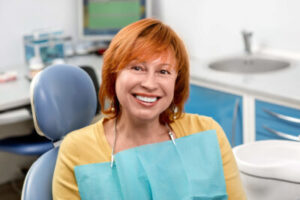 Burns Dentistry takes a modern approach to root canal therapy at our top-rated dentist office in Sun City West, Arizona. Led by a skilled team with more than 100  years of combined experience, our dental clinic utilizes the latest advancements in endodontics to achieve optimal outcomes for our patients with little to no discomfort.
What Does Root Canal Therapy Involve?
The term "root canal therapy" instantly strikes fear into the hearts of many dental patients, but it doesn't have to! Root canal treatment has progressed by leaps and bounds in recent years, and on top of that, Burns Dentistry offers safe and effective sedation dentistry techniques to further minimize discomfort and ensure a pleasant dental experience.
During root canal therapy, a dentist numbs the affected tooth and the surrounding gums. Then:
A small dental dam is placed to isolate the tooth.
A tiny hole is drilled into the tooth to access the diseased tooth pulp.
Small, specialized instruments are used to carefully remove the pulp and other damaged structures from the tooth.
Once the pulp has been removed, the inside of the tooth is thoroughly cleansed and disinfected.
A temporary dental sealant is placed over the access hole, which is replaced by a permanent crown about two weeks after the procedure.
Take the Next Step
Contact Burns Dentistry in Sun City West today to schedule an appointment and learn more about our modern approach to root canal therapy. Our team is here to answer any questions you may have and direct you to the best dental specialist for your needs. Don't forget to ask about our new patient specials!