An Experienced Invisalign® Dentist Treating Patients in Sun City, AZ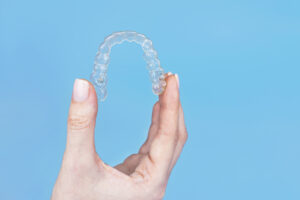 Are you searching for an Invisalign provider in Sun City, Arizona, or the surrounding area? You are in luck—Burns Dentistry proudly offers Invisalign treatment for patients in this community. Our team possesses more than 100 years of collective experience, performs all services in house, and keeps up with the latest dental advances, including Invisalign.
What Is Invisalign Dentistry?
This innovative orthodontic treatment uses a series of clear plastic aligners to gradually shift teeth into place. When compared to traditional braces, Invisalign is considerably more discreet and comfortable. The aligners are also more convenient, since they can be removed when eating, drinking, brushing, flossing, and playing instruments and sports.
Who Is a Candidate for Invisalign Treatment?
Invisalign dentistry is an excellent option for many people with minor orthodontic issues, such as:
Crooked teeth
Gapped and spaced teeth
Crowded teeth
Bite problems (for example, crossbites, open bites, overbites, and underbites)
However, Invisalign may not be appropriate for individuals with more severe issues, or for those who smoke (since nicotine could stain the aligners). After speaking with you about your condition, lifestyle, and treatment goals and taking any necessary diagnostic tests, our Invisalign dentists will be able to recommend the course of treatment that is best suited to your specific needs.
Take the Next Step With Your Smile Makeover
If you would like to know whether you are a candidate for Invisalign treatment, contact Burns Dentistry today. We will gladly arrange a time for you to meet with one of the knowledgeable Invisalign dentists at our Sun City, AZ, office, conveniently located at 13404 N Del Webb Blvd.