Receive a Teeth Cleaning at Our Sun City, AZ, Dental Office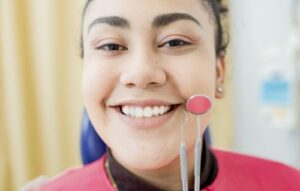 Are you due for a teeth cleaning? If it has been more than six months since your last dental visit, the answer is likely "yes." Thankfully, Burns Dentistry makes it easy for residents of Sun City, Arizona, to receive the professional dental cleaning services they require. Our state-of-the-art office features advanced dental technologies and is led by friendly, experienced dentists and hygienists who provide exceptional patient care.
What Does a Teeth Cleaning Appointment Involve?
A professional teeth cleaning—also known as dental prophylaxis—provides a far deeper clean than an at-home oral care routine. Using specialized tools, a dental hygienist can cleanse teeth and gums more thoroughly and at angles that are difficult (if not impossible) to achieve when brushing your own teeth. Here's a brief overview of a prophylaxis teeth cleaning:
A thorough oral exam is performed to check for signs of gum disease, oral cancer, and other potential issues.
Plaque and tartar are removed with special instruments.
Teeth are deep cleaned with an electric toothbrush and gritty toothpaste.
The hygienist will expertly floss in between teeth.
A fluoride treatment is applied to teeth—usually in the form of a paste or gel—to help protect against cavities for several months at a time.
Depending on your specific oral health needs, a teeth cleaning visit may also involve taking dental X-rays or applying sealants.
Schedule a Teeth Cleaning Today
Contact Burns Dentistry in Sun City today to schedule your routine teeth cleaning or find answers to any questions you may have. We accept many dental insurance plans and offer convenient financing options.